DIY Valentine's Day wreath




* This post may contain affiliate links.

Valentine's Day is approaching and it's time to start thinking about putting up some new lovey-dovey decorations. I don't like to decorate the inside of the house as much for holidays - the extra "stuff" looks like clutter to me.

But I LOVE having a seasonal wreath on my door and this one did not disappoint!

The best part - I found everything for this at the dollar store (except the lovebirds sign that I made myself and the pair of lovebirds - I made 2 wreaths), but I'm sure you can easily find some cute Valentine's day decor to add to your wreath.

What you need:

heart shaped wreath frame

2 rolls of the small rolls of white deco mesh -

If your dollar store doesn't have it, you can use large rolls

white pipe cleaners
a sign or item to decorate your wreath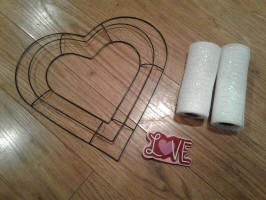 You can start by adding some pipe cleaners to your wreath every 4-6" or so apart or you can attach the pipe cleaners as you go along. I added them as I went along - it was just easier for me that way.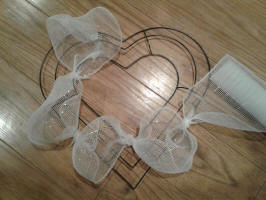 Bunch together the end of your deco mesh and then wrap your pipe cleaner piece around it and the frame to secure it in place.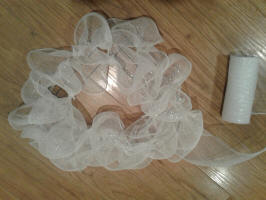 Now you are going to work your way around the frame (2-3 times) attaching the deco mesh every 4-6" by bunching it together and securing it with a pipe cleaner. You are going to want the mesh to be loose and sort of resemble a bubble in between each pipe cleaner. Work your way around the entire frame 2-3 times until you have it as full as you would like it.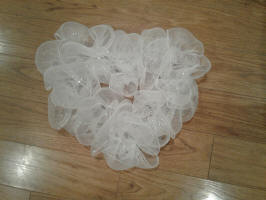 Once you are happy with it, you can attach your sign or item. Depending on what you chose, you can use hot glue, some wire, fishing line, etc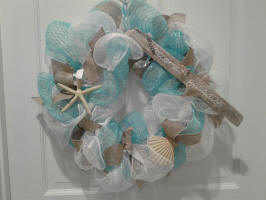 When your item is securely attached you can add some ribbon and hang it on door for all your visitors to see!

Want to know my wreath hanging hack?! I attach an upside down command hook to the inside and top of my door and I hang up all my wreaths this way. The twine/ribbon is attached to the wreath and goes over the door and hooks onto the command hook. Works perfectly for every wreath!