Fall porch decor | 2X4 pumpkins






* This post may contain affiliate links.



Summer is officially gone and we are full on into fall here in Wisconsin. Some leaves are still changing and some have already changed and fallen down.

My favorite part about fall is all the colors. Warm reds, golden yellows and bright oranges seem to help the weather feel a bit warmer.

Since our house is white and we have a lot of green pine trees that don't change color I needed to add some reds, oranges and yellows to our front porch decor.

I had made these adorable guys for halloween and realized I could make them reversible for the fall season. Pumpkins! Perfect!



What you need:

2x4 or 2x6 boards. I cut mine to 18", 21" and 24" high.
acrylic paint
dowel
circular drill bit
cut off saw - I have this one and love it!

twine, ribbon, raffia, etc

For my decor, I used 2X6's because that is what I had left over from all of our projects. You can use 2x6 or 2x4 boards, whichever you prefer.

First, I gave all mine a coat of acrylic paint in orange. I let that dry and then dry brushed on some streaks of brown just to give it a bit more dimension. Once it was completely dry, I sanded the edges and a little bit on the front to give it a more worn or rustic look.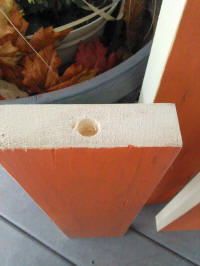 For the stem, I used a 5/8-Inch dowel
cut down to about 4" each. I took my circular drill bit in 5/8" and put a 3/4" deep hole into the top of each pumpkin.



After the holes have been drilled out, I placed each dowel into each hole and then gave them a coat of brown paint. It is much easier to paint them this way.




To finish it off, I found some leftover twine and tied a loose bow around the bottom of each stem. You could use any type of twin, ribbon, raffia or anything else you have laying around.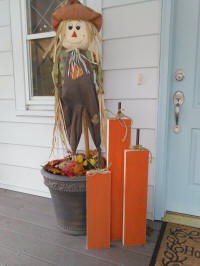 Put your pumpkins on display and enjoy them all season long!