DIY 2X4 wood halloween decoration blocks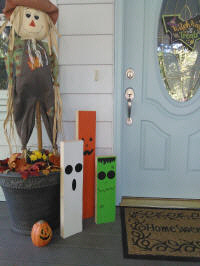 * This post may contain affiliate links.



Halloween is fast approaching and we've got an easy DIY for you!

These little guys might not be scary but they sure are cute. And to make this DIY even better, you can make it reversible!

What you need:

2X4 or 2X6 boards.
acrylic paint
cut off saw -

I have this one and love it!

sandpaper

We have been doing some major remodeling around here and I seem to have way more pieces of leftover wood than I can deal with. I had quite a few pieces of odd shaped pieces of 2X6's so I trimmed them to look a bit more even in design.

First, cut your wood to size. They can be any size you want. Smaller if you plan to keep them inside or bigger if they are for your porch. We made ours for the porch and went with sizes that ranged from 18" - 30".

Once you have your wood cut to size give them a good sanding to remove all the rough edges.



Now paint them! To make them reversible, just paint the front of each side. You could do a halloween theme on one side and winter/Christmas theme on the other side. I made mine halloween on the front and "fall" themed on the back by just making them pumpkins. I would have done a winter theme, but I already have a few winter themed porch decor that I didn't need anymore ;)

Once you have them painted it is also a good idea to give them a coat or two of an acrylic spray sealer to help protect the paint a bit more. I use this sealer for all of my projects.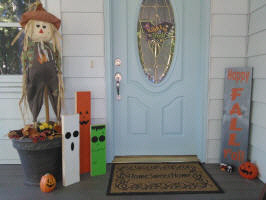 You're ready to show them off! Set them up and admire your job.

Some ideas:

halloween - ghosts, jack-o-lanterns, frankenstein, witch, "boo"
fall - pumpkins, cute fall sayings
winter - snowmen, "cold" themed sayings
Christmas - santa, elf, rudolph, presents