Gift tags | front door wreath alternative




* This post may contain affiliate links.

I love to decorate the front door, but sometimes the typical wreath gets so boring. After seeing a few wreath alternative ideas on pinterest, we decided on these adorable gift tags to replace our wreath for the fall / thanksgiving season and they are a hit!

What you need:

leftover plywood
saw (I used a table saw and a jigsaw)
a drill bit and drill
acrylic paint
rope, twine, etc



First, cut your tags to the size you want. Mine are approximately 3" wide by 5" long.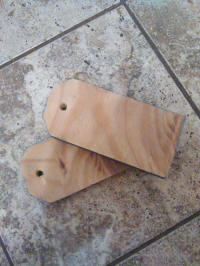 Next, drill a hole in the top so that you have a place to string your rope or twine through so that you can hang them.

Once you have your tags cut and holes drilled to the size you want them, give them a good sanding so they are nice as smooth when they lay against your door.



Now paint them which ever color you want and wait patiently for it to dry. ;) For the writing, I printed off my "We are blessed" saying, layed it on top of the tag where I wanted it and traced over the printed image to leave a bit of a dent in the wood. I removed the paper and then painted over the lines that were dented in the wood.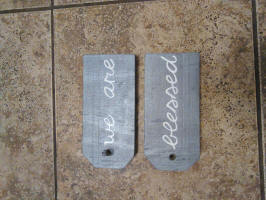 I gave mine a clear coat of acrylic spray to help protect the paint some more, but this part is up to you.

Then loop your twine or rope through the holes and hang them up!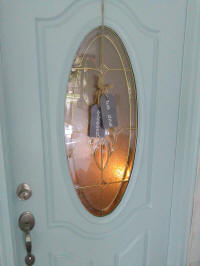 do it yourself
Want more DIY's?