Wooden stool makeover
Half of us probably have one or more of these laying around. Let's face it, even if they aren't very esthetically pleasing they sure can come in handy.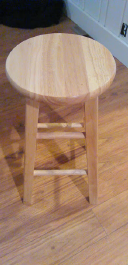 * This post may contain affiliate links.
But they are plain. Cheap looking. They need help.
What you need:
Spray paint
Old sheets/cardboard/tarp for spraying on
Stool(s)
Masking tape (optional) if you want to add designs to it
If you want a design, first tape off what you don't want painted. You can paint just the legs, half the legs or just the top. I wanted mine a solid color since I have 2 stools in a small office space and I needed a pop of color in there.
Then spray them down. You will likely need to do 2 coats, maybe 3 depending on your color choice and how dark your wood is. Do each coat a nice thin layer to make sure it adheres nicely to the wood. Once you are done, leave them to dry 24 hours before using them as a stool to make sure the paint has time to dry completely.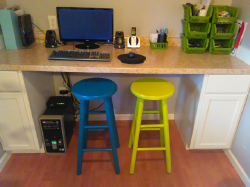 I should have taken a better pic to better show the room/colors. Oh well, you'll have to trust me that they look perfectly in my office.
Alternatively, you could also mod podge some funky paper to the top of your chair. You could also paint a scene on the chair or stencil on a name. A lot of possibilities!