DIY wooden bouy beach decor




* This post may contain affiliate links

Living near the beach I LOVE having a nautical theme around the house, but especially on the front porch to welcome our guests to our beach house.

And these wooden bouy's are perfect. You can hang them as a wreath, hang them on a wall, or hang them up anywhere. Here we have them hanging from some driftwood on our front porch planter.

What you'll need:

some wood - use whatever you have on hand. I had 3/4" plywood leftover
a jigsaw
(if you love crafting with wood, GET A JIGSAW! You will be hooked!)
acrylic paints
acrylic sealer

sandpaper
drill and drill bits
for making the hole
some rope for hanging

Start by deciding in the size of your bouys, drawing them out on the wood and then cutting them out with your jigsaw. Once you have your bouys cut out, take your drill and make a hole in the top of your bouys so that you have a way to hang them up. You can do any size hole as long as it's big enough to fit your design rope.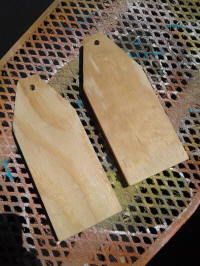 Once you have it cut out, give all the edges a good sanding. Once it is nice and smooth you are ready for paint. I wanted my bouys to have an old and worn look so I used gray and white paint. I dropped dots of gray and white paint all over the bouy and then with a wet paint brush I painted all over the wood blending them together.




When the paint was good and dry, I gave it another sanding. This made the paint look more worn, plus it also removed paint in spots to make it look pretty authentic.

Then using painters tape, I taped off the middle section and painted the middle spot. Once that is good and dry you can remove the tape. This would also then, be a good time to add anything else you want to the bouy's for example your house numbers if you plan to hang them on your front door.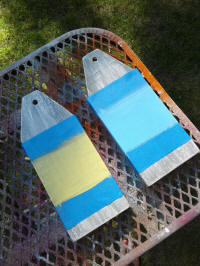 Once everything is good and dry, spray it with your acrylic sealer to help protect the paint job. When that has dried you can add some rope, twine or whatever you would like to hang them with.

I used some leftover rope and just tied knots in the rope until I liked the look. Then you are ready to display your wooden bouys. I love the beach casual look of them and they match perfect on our front porch.