Woodburned driftwood signs




* This post may contain affiliate links.

I had some pieces of driftwood leftover from a previous DIY craft where I made a driftwood spinner and a driftwood christmas tree wreath.

I have a bowl of seashells sitting on a table as part of my decor and I wanted to fancy it up with a neat looking piece of driftwood, but it looked too blah.

Fortunately, my neighbor had stopped over a few days before to see if I could use a woodburner. I had one when I was really small, but it never made it along with me 30+ years later.

The woodburner hadn't been put away with the craft stuff and was still laying out when I realized I could try out the woodburner on my driftwood!

So.much.fun!! I forgot how much I loved using a woodburner!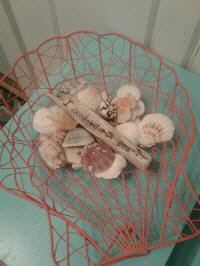 I just freehanded my sayings, but next time I will design a saying in a neat font, print it off, trace it onto the wood and then draw over the lettering with my woodburner.

No special materials for this one - just your woodburner
and assortment of driftwood
and go to town!