Upcycle old wooden windows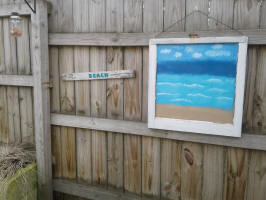 * This post may contain affiliate links

When we purchased our home we found some old windows in the basement crawl space that the previous owners left behind after they replaced them. I was so excited - people pay good money these days for old windows!

I knew exactly where I wanted them to go and what I wanted to do with them: beach scene!

What you'll need:

an old window (or a few!)
acrylic paints and paint brush
clear acrylic spray sealer
chain for hanging your window
eye hooks
Start by making sure your window is clean and your frame is nice and smooth. If you need to, give it a good sanding first if you plan to paint it, otherwise leave it if it looks great.

Then using your acrylic paints, paint your window! We decided on a beach theme since we live near to the beach and these were going to go in a little corner seating area of our yard.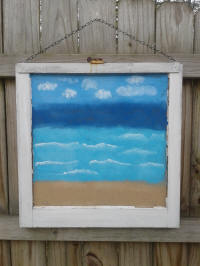 Once your window paint is completely dry, spray it with a good coat of your acrylic sealer
. Again, let that dry. It usually takes less than a half hour to dry to the touch.

Then add your eye hooks
into the top corner of each window. If you are unable to just screw the eye hook in by hand, you may need to predrill a pilot hole first, but make sure you do not hit the glass of your window.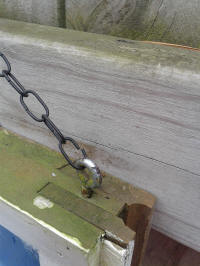 Then attach your chain and you are ready to hang it up and enjoy your new windows!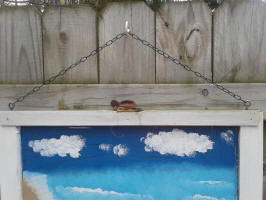 We had two windows so we painted both of them a little differently and hung them up in the corner of our yard on the fence. It looks so cute and adds to the relaxing space we have started to design in that spot. I love it and after 2 years they have held up perfectly!