Upcycled butterflies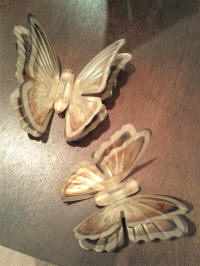 * This post may contain affiliate links

I was at my local thrift store and found these butterflies. If your mom was like mine and very into Home Interiors back when, you probably had these little guys stuck to the wall in your house too. When I first saw them I laughed, reminiscing about them hanging on the wall right when you walked in the front door just off the side of another home interior item. $.99 each? I'm bringing 'em home!

What you'll need:

spray paint
and some cardboard/paper to protect painted areas.

We have a fenced in backyard and I like to dress them up a bit with some decor and knew that these little guys would look perfectly flying above all of my lilies. But not in that awful gold color.

So I grabbed some spray paints in different colors that I had left over. I lifted up the top wings and spray painted the back ones first. Once those were dry, I covered them with some thin cardboard and then spray painted the top wings.




To give him a little more color, I covered the top wings and spray painted the body of the butterfly a different color.

Once they are dry they are ready to be hung up!