DIY tomato cage tree




*This post may contain affiliate links

When I found tomato cages on clearance at the end of the season for $1 each (for the good and sturdy ones!) I had to grab a few. I planned on giving a few to my dad, but when he said he had enough I ended up with a few extra. Instead of planting extra tomatoes next year, I knew exactly what to do with it. A deco mesh christmas tree for my porch!

Here's what you'll need:

tomato cage
(mine was 42", but you can do any size)
a zip tie
white pipe cleaners
(I cut each pipe cleaner in half to double the amount)
white deco mesh
white string lights

misc decor for decorating your tree

Start with an "upside down" tomato cage, with the stakes pointing up. Gather all of the stakes and use a zip tie to join all 3 stakes together.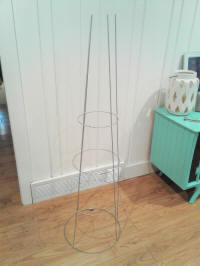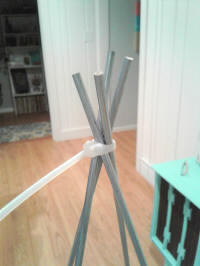 Next, attach your string of lights
with one of your pipe cleaners. Make sure you attach your lights at the plug in end at the bottom of your tree, leaving out enough of the cord so that can stretch to plug in. You can see below I started to attach my deco mesh
before the lights - I completely forgot!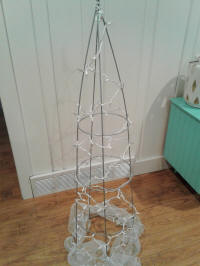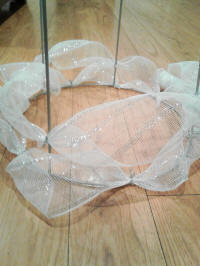 Then it's time to start using your deco mesh
. I had some white mesh left over from the dollar store. Those rolls are a bit shorter and half the width. I used 5 rolls from the dollar store. If you use the larger deco mesh rolls you can likely get away with using 1 full roll, maybe 1 1/2.

Attach your mesh with a pipe cleaner about every 6-8", leaving it to bunch up in between each pipe cleaner. Continue your way around and up your tomato cage trying to stagger where your mesh gets attached. Keep attaching deco mesh until you have the tomato cage as full as you would like it.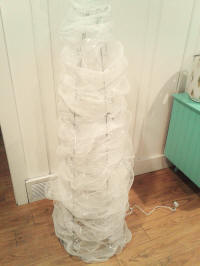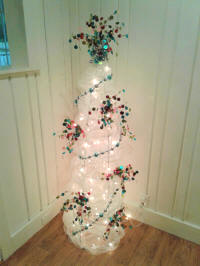 When your deco mesh
is full enough to your liking, it's time to decorate it. I had some leftover sprays from a previous year of decorating and they matched perfectly with the rest of my front porch decor. It looks absolutely perfect and gives off such a nice glow on my porch.