DIY tiki mask light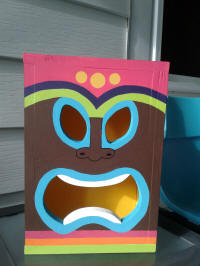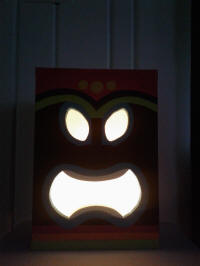 * This post may contain affiliate links

We ran to Lowe's the other weekend for a few plants and saw some tiki statue solar lights that were awesome! Except that they were $50 and they were solar. I have a huge covered patio, so I can't do solar lights....they don't get sun.

So I knew I had to make my own version that would look great during the day and could still light up at night. Ta Da!!

What you'll need:

wood - I used 1"X6" and 1"X10"
drill and bit

screws
chop saw

sandpaper
jigsaw

acrylic paints
battery operated fairy lights


Start by deciding on some dimensions for your tiki mask. In this picture you can see 2 larger pieces for the front and back, 2 smaller pieces for the sides and then the top and bottom. Measure out your pieces, make your marks and use your chop saw to cut all the pieces.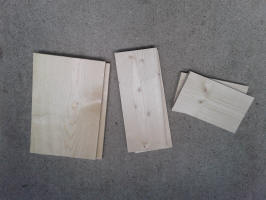 Once you have all of your pieces cut, dry fit them together to make sure that they all match up nicely. If you need to trim some do that now. Otherwise, when you are happy with your pieces go ahead and give them all a good sanding.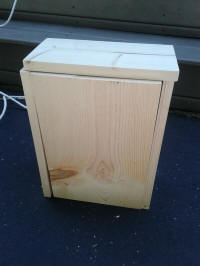 Then you are ready to start building your box. I attached all the sides to each other and left off the top and the bottom at this point. Once I had the sides all screwed together I settled on the design of my tiki face. I drew it out on paper first, then cut out the outline and traced the shape onto the wood. I used my my jigsaw
to cut the eyes and the mouth out. If you prefer, you can cut the face out before attaching the box.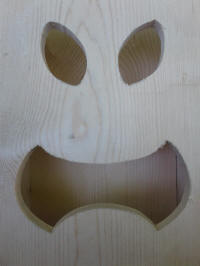 Once you have the face cut out, make sure you flip your box over and drill a hole
near the back bottom of the tiki mask light so that you can slip your lights in. The hole doesn't need to be real big, just big enough so that your bulbs will all fit through. Once you have that hole drilled, give all your new edges a good sanding to remove all the rough edges. I then decided to paint the inside of my tiki light a bright yellow color. This way during the day his eyes and mouth stand out a bit more.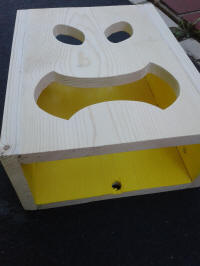 When you have your sanding done and your paint is dry, you are now ready to attach the top and bottom boards to your tiki light. My son was looking for something to do, so I had him help me hold the boards in place and I let him do some of the drilling. This also makes for a fantastic way to bond with your teenager. :) I held the boards in place while he would predrill the holes and then put the screws in place.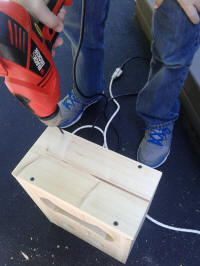 When everything is completely attached I went back and sanded all the edges again. I also added some paintable caulk to areas that had a little too much of a gap because I wanted to make sure that no light would shine through anywhere.

Then it's time to paint him! I just found a face I liked online and drew it onto my tiki light.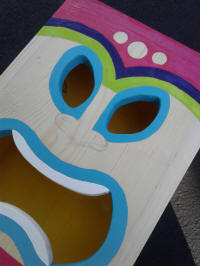 Once he's been completely painted, give him a good coat of acrylic sealer
to help protect the paint especially if you plan to keep him outside. By now I'm sure it's 5 o'clock somewhere so it may be time to enjoy a cocktail with your tiki light!