St. Patrick's Day wreath DIY




* This post may contain affiliate links.

Being part Irish and having a daughter named Ireland, we love St. Patrick's Day around here! Shamrock lights get hung, gold coins are placed around the house and we always have a little leprachaun hiding somehwere ;)

This year we had to make a new wreath for our front and we found everything we needed for it at our local dollar store. Score!

You will need:

2 strands of garland
a foam circle wreath form - use these if your dollar store is sold out

some decor item for your wreath
some thin ribbon or twine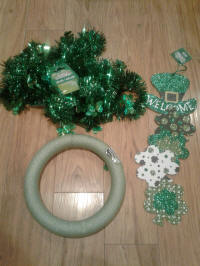 Start by taking one end of your garland strands and wrap it around the wreath form. I used duct tape to secure both ends to the form though you could also use hot glue. Continue using garland to wrap around your form until it is completely covered and secured to the wreath form.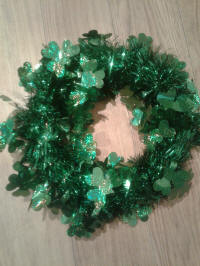 Once you have your garland attach it's time to attach your decor pieces. I found this piece and I really wanted to use the "welcome" hat on my wreath, but you could instead attach the adorable shamrocks!

Since the hat already had a hole in it for hanging, I removed the ribbon it came with and used some green ribbon I had at home. I strung the ribbon through the hat and then tied it around the top of my wreath and cut off the excess.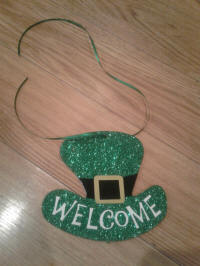 Happy St. Patrick's Day!

May your troubles be less and your blessings be more and nothing but happiness come through your door.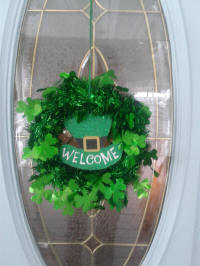 Want to know my wreath hanging hack?! I attach an upside down command hook to the inside and top of my door and I hang up all my wreaths this way. The twine/ribbon is attached to the wreath and goes over the door and hooks onto the command hook. Works perfectly for every wreath!