DIY your own blog or website!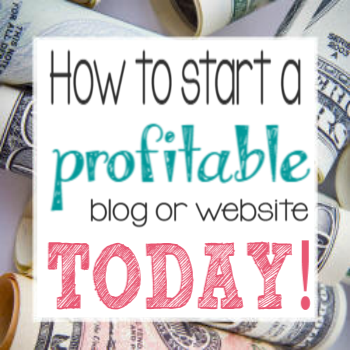 * This post may contain affiliate links.

By now you've heard about the many people who are earning an income from blogging and YES, it is completely possible - I'm living proof! You also likely have a general idea of how it works, but it may sound "too good to be true" so I'm going to break it down into 6 easy to understand steps.

Making an income with blogging does not happen overnight. While many experience an income almost immediately, it is one of those "you get out what you put in" sort of things. The more serious you take your blog, the more it will be a business for you. And now, for less than $5 a month, you can launch your own blog.





Ok, enough chit chat. Do you want another year to go by where you wished you would have started up your own blog and started making money from home? I didn't think so.

Let's get started.


1.) Pick a topic or niche for your blog



Decide what you want your site to be about. What are you good at? What are you an "expert" in? What can you share with people?

What do you like to do? What is something you know about? It can be anything! From a specific animal breed, to coin collecting, to sewing or sports. Just b

e sure to choose something that is interesting to you so that you keep your site new and exciting with fresh content and so that your visitors keep returning. Grab a notebook and start jotting down all of your ideas.

2.) Choose your hosting company
A hosting company is the company who you get your domain name through (www.Your website name.com) and who displays your website online. We use and absolutely LOVE Bluehost. They offer everything you need to get started and more all at the best price available. Bluehost also offers a WordPress plug-in so you can implement the best blog platform right into your website with one click! As a bonus, right now you can also get a free domain with a hosting package throught Bluehost.
Now, you can sign up for a free blog, but if you would like to make money with your site, this is not going to be possible. Those free blog sites do not allow you to place your own ads on their pages so you will never be able to make money from that type of blog.
Plus, if you aren't serious enough to spend $5 a month on your own business then no one is going to take you or your website seriously.

Do you really want to wait ANOTHER year just to look back and wish you would have started your blog years ago? I didn't think so. Plus, right now, you can get your blog up and running in 20 minutes and for less than 5 bucks a month!
Check out
BlueHost
here
.





3.) Design your site

This is the fun part (but can also drive you crazy too!).

You may either do it yourself or you could pay a professional to do it. One of the best things about Bluehost is that they offer a Wordpress plugin where you can upload this plug-in onto your website and your blog is. Wordpress is an very popular blogging site that makes blogging extremely easy. To get some good ideas, browse the internet for sites that you like. Jot down things you like and things you don't like. Find color schemes you like and don't like. All this will help you when it comes to building a site you will be proud of.

4.) Add content

And lots and lots of content to your new blog or website. You want your site to look like it's established before you start advertising it everywhere. Write good articles. Add relevant content to your site. Publish articles that will help your readers and make them want to keep coming back.

5.) Sell

Once you have a good base to your website and have a nice amount of content on it, you can start to sell. What you sell will completely vary depending on what type of a website you are starting and how you want to make money from it.

Do you want to sell your own products? List them on your site.

Want to sell someone else's products? Join affilate networks such as commission junction, shareasale, etc that offer products related to your site. Everytime someone buys a product through your link you will then receive a commission on each sale.

You can also join advertising networks such as google's adsense program and get their ads posted on your site. With Adsense, you will earn money everytime someone clicks on the links you have displayed. This is a fantastic way to earn money if you have a site designed mostly for sharing information. Being that you earn money based on your site visitors, the more visitors the more money. So you will likely not be earning much from this at first until you start getting traffic (see why you should have already started your blog?!). But that leads us to the next part....



6.) Start advertising your own site

Now that your site is established and looks professional, join social networks like Pinterest, Instagram, Facebook and Twitter and start building followers. Share your site with your friends and ask them to share your site. Get the word out about it and get going!

7.) Start Making Money
Don't expect an income right away. While there are people who do start making money almost immediately - it take some time (again, wish you would have already started your blog?). This is not a get rich quick scheme, however there are many people who are "getting rich" with their blogs. Again, this all depends on you. There are countless blogs that teach you what works for them and what didn't work, but the great thing is now, with social media, anything is possible.
Take your blog seriously and be confident in what you do. Keep at it and don't get discouraged. Just keep adding new content, posting and sharing and soon you will be able to say you are making an income from blogging too!


Now what are you waiting for? Do you want to look back at yourself in another year and wish you had started blogging years ago? You found this page, it's time to start. Quick talking yourself out of it. If you have a passion, go for it! Don't let another day go by with a regret.
Head on over to Bluehost and get started!
do it yourself
Want more DIY's?