Driftwood wreath alternative - painted snowman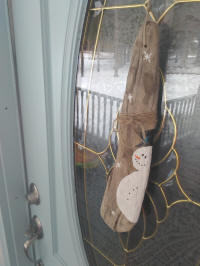 * This post may contain affiliate links.

We have been having so much fun getting our home ready for the holidays. Being close to the lake and to match with our home decor we have decided to decorate for the holidays in a coastal decor as well.

I love having a wreath or something on the front door, but am so bored with the typical, boring wreaths. This little driftwood snowman wreath alternative was the perfect way to add a little something beachy to our coastal christmas decor!

To make this guy all you need is:

a piece of driftwood
some twine
a drill and drill bit
some acrylic paints
clear acrylic sealer


First, paint your design on to your driftwood. Once it has dried, I would recommend spraying it with an acrylic sealer if it will be "out in the elements" just to help protect the paint a bit more.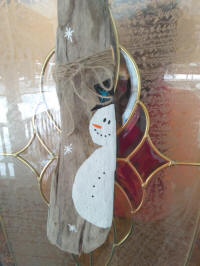 Once you have it painted, drill a hole through the top of your driftwood so that you can hang it up.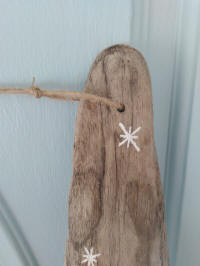 String your twine through the hole and measure out how long you want your wreath to hang depending on how you hang it. Want to know my wreath hanging hack?!

I attach an upside down command hook to the inside and top of my door and I hang up all my wreaths this way. The twine/ribbon is attached to the wreath and goes over the door and hooks onto the command hook. Works perfectly for every wreath!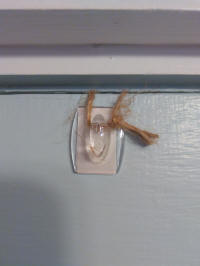 Once you have your twine on and secured, hang up your new wreath.