DIY seashell windchime




* This post may contain affiliate links.

Being stuck in cold weather, I am dreaming of sunshine and seashells!

Since I don't have sunshine and seashells or my toes in the sand, I decided I needed to bring the beach to me - somehow.

Fortunately I had a few seashells leftover from a previous craft so my little girl and I got together to come up with a seashell craft and she decided on a windchime.

What you need:

seashells - clam seashells are my favorite to use

tiny nail and hammer
string
driftwood
beads -

I ordered some pretty turquoise beads


Before you start assembling you need to poke a little hole into your seashells. Depending on what type of seashell you have will depend on how this will work. My seashells are a clam/mussle type of shell and they are very thin so I could easily use a hammer and nail. If your shells are thicker you will likely need to use a drill bit and a drill in order to get a hole into your shells.

When putting the hole in your shell, you will want to drill from the inside out to help prevent your shell from cracking. Decide where you want your hole to be and place that part of the shell flat on a piece of old wood (or something you can drill into) and drill or pound your nail through while the shell is still flat against the wood.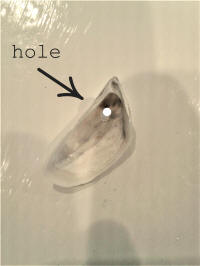 Once you have all your holes done it is time to assemble your windchime!

Decide on how you want it to look: how many strangs, how long are the strands, etc.

I started at the bottom of my strand and worked my way up to the top where it attaches to the driftwood. Make a knot at the bottom of the string and then put on a shell/bead. Leave a little space, make a knot and then add a shell/bead. Make sure you leave enough space so that you accomodate for the length of the shell as it hangs down.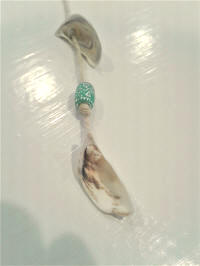 Work your way up each strand and then attach each strand to your piece of driftwood. Continue to add more shells and strands until you are happy with the look of your windchime.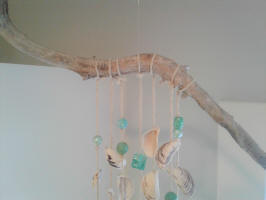 To hang your windchime you can either use fishing line / monofilament line or you could find an eye hook and screw an eye hook into the top of your driftwood chime and hang it with an "s" hook from that.