DIY pebble art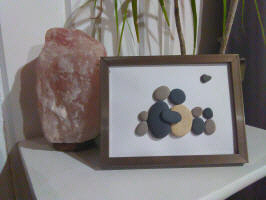 * This post may contain affiliate links.

Now that the snow is starting to melt around here, I could finally get my butt down to the lake. Living near Lake Michigan is amazing. Hearing the sound of the waves when a storm is nearing is amazing!

Anyway...I love the lake, but I didn't head down there much during winter - too much snow and it's way too cold. This is Wisconsin afterall, not Florida.

The kids and I love collecting smooth pebbles, but this time I focused on finding different colors, shapes and sizes of smooth, flat rocks. I carried a pail along with me and didn't head home until my pail was full so I knew I had a good assortment.

I knew what I wanted the picture to look like, so I started pulling out stones and placed them. I rearranged and rearranged many times until I got all the stones perfect. Now let's put it together.

You will need:

smooth beach stones

frame without the glass
super glue
cardstock cut to fit the back of the frame

First, cut your card stock. This is optional, depending on your frame, but I wanted a white background for my stones and the cardboard back of the frame was black. Cut this to size and then glue it on to the inside of the frame back so it is secure. This is what you will glue your stones onto and you don't want the weight of the stones to pull the cardstock off.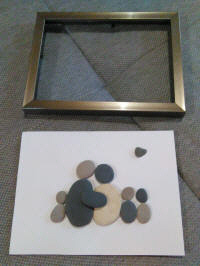 I put this back into the frame so that I knew the exact dimension I was working with. This will depend on what type of a frame you got, how thick it is, if it has matting, etc.

Then arrange your stones inside the frame. Do not glue them on until you are perfectly happy with your layout. Trust me on this ;)

Once you are happy with your layout, super glue them on. Super glue takes a little bit longer to dry, so I've found that if you hold your stone down in place for about 30 seconds it helps to get the stone held in place faster.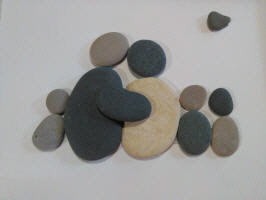 I let it dry for quite a while (24 hours) on it's back before I stood it up. I was too scared the glue wasn't comepletely dry and my stones would all slide.

I definitely plan to make a few more of these as gifts - they're adorable!