DIY painted Christmas tree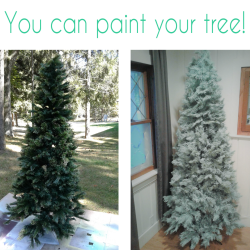 *This post may contain affiliate links

Y'all.....I had no idea this was even possible! And pictures do not do justice at all here. I was at Target recently and noticed these adorable little trees that they had in some fun colors like pink, purple and teal. I REALLY wanted a teal tree to go with my holiday decor, but didn't know where I would put it, so I passed on it.

I had a mini tree from years ago that I had gotten from the dollar store and I wondered if I could spray paint it to look like the teal tree I had seen. Since it was so small and so cheap I figured I didn't have much to lose, so I tried it. I painted it a silver color and it came out great! Now my wheels are turning.

My tree from last year had all the lights on it go out and after 10 years it had seen better days. I found a new one after the holidays for 75% off, so I was ready to let the old one go. Until I realized that maybe some paint could give it a new life too.....



And it did! I LOVE it! Our house is decorated very beachy and this year we planned to decorate our tree with all the seashells from our trip to the ocean, so giving the tree a beachy feel would be perfect.

All you'll need is some spray paint. I was going to just use a white paint to lighten it up about, but ended up using Krylon matte Aqua spray paint
and love it! This color was perfect. My tree is a skinny one and about 6.5' tall and I used 5 cans of the spray paint.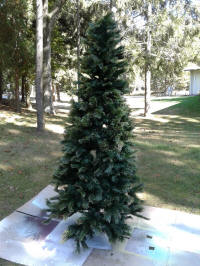 Now if you have a white tree, the color will come out a little bit differently: a little brighter and lighter and it would probably look like a dream (can you tell I really wanted to paint a white tree?) , but it still works great for the traditional green tree.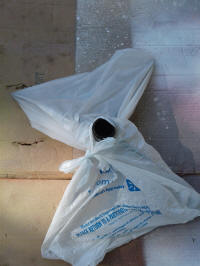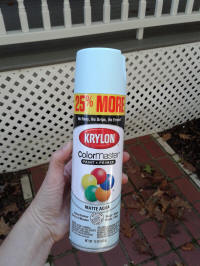 Start by taping off or putting a bag around your tree stand. Then, depending on how your tree comes apart will determine how you proceed. I started at the bottom of my tree and as I put in each section as I worked my way to the top of the tree.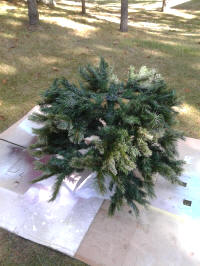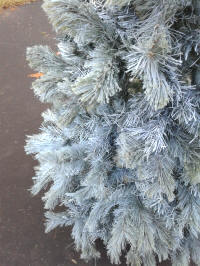 Spread apart your branches and to make sure you hit the sides of each branch and the underside as well. Just take your time, working your way around your tree one branch at a time.

When you get all done, go back over your entire tree looking for branches that may have gotten missed.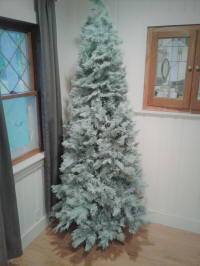 I am so glad I went for it! It looks amazing and it gives the real harsh, dark green a lighter tone.