Before and after painted ceramic tile backsplash




* This post may contain affiliate links.

Our main bathroom was decorated mostly in black and white. Black countertops, white cabinets, white toilet and tub, white shower tile, etc. But for some reason they added tiles around the sink and tiles to the top of a cabinet that had navy blue, maroon and yellow colors. They were very outdated and the colors did nothing for the room.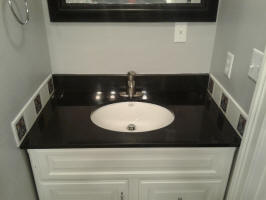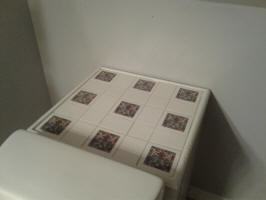 We wanted to replace them, but I wasn't quite ready to tackle that kind of project knowing I'd have to fix wallpaper, retexture and paint.

So we opted to paint! And am I glad we did!

The best part? No sanding! No prep whatsoever besides washing and drying the tile to make sure it was clean and dust/dirt free.

We used this water based primer
. It is meant especially for painting overtop ceramic tile and it works amazingly!

Being that we were going to paint our tile white, we ended up just using the primer and no other paint over top. It was not shiny at all, which was what I wanted. I would say it was a nice matte finish.

I used this this really good paint brush
to make sure I got good coverage and not so many "streaks". When you are painting on a surface so smooth you will tend to see lines anyway, but this turned out awesome. A great brush really is key to painting something like this and making it look perfect.

My tiles were very dark, so I ended up doing about 4 coats of the primer. Each coat dries within 1 hour so it didn't take long to complete this project.

What a difference huh?! I love it! It really made my bathroom look complete with everything matching much better.