DIY office organizer




* This post may contain affiliate links

Since my hubby restored an old record console he has been on the hunt for some records to listen to on it. In the process we have been "gifted" quite a few old, scratched up records. Instead of tossing them I knew we could repurpose them.

And we did! We made this office organizer as well as a bird feeder and a flower for the garden.

What you'll need:

an old record album
small metal mixing bowl
and pot holders
acrylic paint
spray acrylic sealer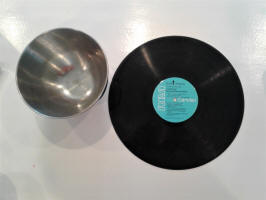 Start by painting your record however you would like with your acrylic paints. My kids and I painted quite a few of these as teacher appreciation gifts so we had many different designs.

Once your paint has dried, spray it with an acrylic sealer
to help protect the paint from chipping off.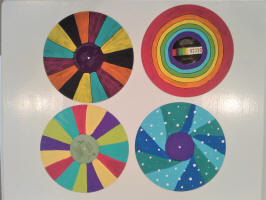 Turn your oven up to 200* F. Then set your metal mixing bowl
in the oven upside down and place your record on top of it. It will take about 2-5 minutes for your record to heat and soften depending on your oven. When it is ready your sides will completely droop down against the bowl.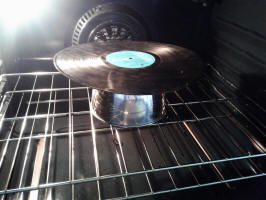 Take your bowl and record out of the oven with your hot pads and set it on the stove. You can either shape your bowl by hand or do what I did - place your hot record inside of your bowl to help get the general shape of your bowl. While your record cools down, mold the record into seperate sections - pulling the edges apart to make wide and narrower sections. If you mess up and it doesn't look how you want it to - no problem! Just start over. Put it back in the oven, reheat it up and try again. I believe my first record took me about 5 tries, so don't give up!




Once it cools down you can remove your record from the bowl and put your supplies inside of it and put it on display!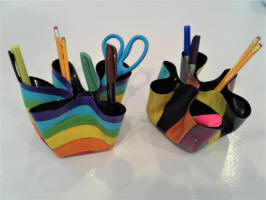 Enjoy!