DIY natural toothpaste




* This post may contain affiliate links.

For over 8 years now we have switched from commercial toothpaste to a natural toothpaste and we couldn't be happier!

* This is not medical advice. This is just me sharing what we use and how we like it. *

Since making the switch our oral health has improved so much and our dentist has been impressed, so we continue to use this toothpaste.

Here is our recipe:

5 ounces bentonite clay

2 ounces baking soda
3 ounces xylitol

4 ounces organic coconut oil

4 1/2 ounces distilled water

Mix all your ingredients together in a non-metal bowl and using a non-metal utensil. I like to use a glass bowl and either a wooden spoon or a spatula.

First, you want to break up your coconut oil. This is the hardest part because coconut oil doesn't really become liquid unless it is room temperature. If you live in a warmer climate this will be much easier than for those of us in colder climates. Then add in your clay, baking soda and xylitol and mix together until it is well combined. Lastly, I add in my water and continue mixing and squishing until it is close to the consistency of toothpaste. It will NOT be smooth and creamy like toothpaste. It will look thicker.




If yours is too runny, add more bentonite clay.
If it's too thick, add in a little more distilled water.

Once you have it to a good consistency, I like to add about 10 drops of peppermint essential oil
just to give it a little bit better of a flavor and because I hate the taste of coconut oil. This part is entirely up to you.

Now it's time to add it to your toothpaste tube.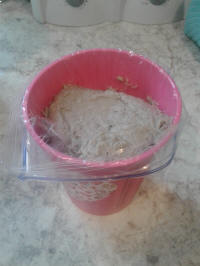 Some people keep theirs in different containers such as glass jars or different pump type bottles. You can also store it in an empty container tube
.This is entirely up to you. I like to store mine in an emptied out toothpaste tube so that it feels more like toothpaste, it's a bit more sanitary than redipping into a glass jar and it made it much easier to transition my kids by telling them it was "real" toothpaste.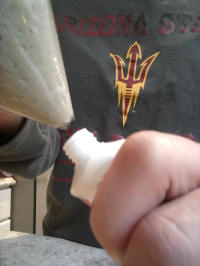 I placed a plastic lunch baggie into a cup and then scooped my toothpaste into that bag. Then I cut the corner of the baggie and squeezed the toothpaste into the tube.

This is where you'll find all your coconut oil that didn't break up - it'll plug up the bag so your toothpaste won't easily squeeze into the tube. I just pull out those chunks and toss them in the garbage.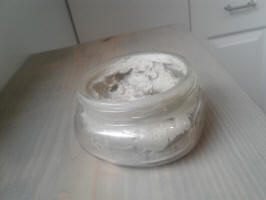 Once you have your toothpaste tube filled up, store the extra in a glass jar that has a good seal so the toothpaste stays fresh.

This batch usually makes 2 toothpaste tubes.