Glass shade solar light




* This post may contain affiliate links

In the middle of our remodeling we took down an old chandelier light. It was way too big for the space and an ugly gold color, but I couldn't toss it out completely. I had to save the lamp shades to make some adorable solar lights for our garden. And they turned out adorable!

What you need:

old lamp shades
solar lights
some wire for hanging them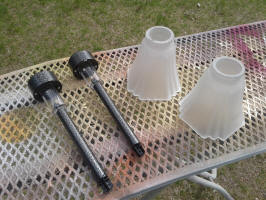 Start by spray painting them if you want to. I had some leftover seaglass spray paint and knew that color would look perfect in our garden. I also decided to paint the top of the solar light tops. If you want to paint the solar light, make sure you tape off the solar light window so that doesn't get covered with paint.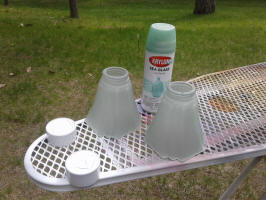 Once it is dry you are ready to attach your wire. I just used some leftover wires, wrapped it around the base of end of the glass shade while also making a loop with the wire for hanging it.

Once you have your wire wrapped and secured, set only the top of your solar light inside the hole of the shade.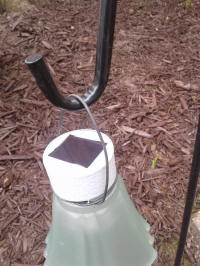 Then hang that beauty up and wait for the sun to set to see your knew lights. They give off such a beautiful glow plus they look great during the day!