DIY front door easter wreath




* This post may contain affiliate links.

Hippity hoppity easter's on it's way!

Time to get your front door ready for when the Easter bunny shows up and this DIY is very easy and cheap. You can find all of your items at the dollar store.

What you will need: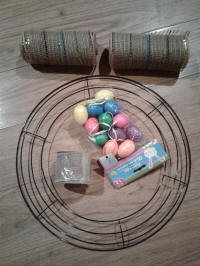 spring colored deco mesh

5-7 pipe cleaners
wire wreath frame

little eggs
burlap wire ribbon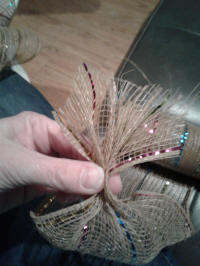 First, cut each pipe cleaner into 4 pieces. Pinch the end of your mesh and attach it to your wreath frame with a pipe cleaner. Move down your mesh about 6" or so, pinch it together and then attach it to your wreath frame, making sure that it gives a nice bunch in between pipe cleaners.



Continue bunching up your deco mesh and attaching it to your wreath frame in alternating spots so that your wreath looks full.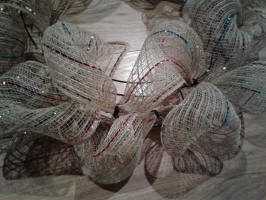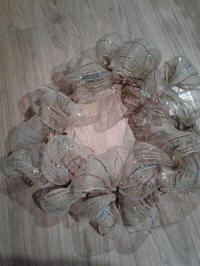 My wreath is starting to look a bit more full, but I still need to add some more deco mesh to get it as full as I would like it.

Cut some pieces of your burlap wire ribbon
about 6" long. Pinch the ribbon in the middle and then attach it to your wreath with another pipe cleaner. I just added these ribbon pieces wherever I felt I needed to "hide" imperfections and where I wanted to add a little more interest to the wreath.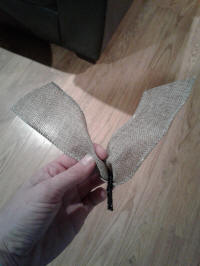 I added about 5-6 pieces of ribbon to get my wreath exactly how I wanted it.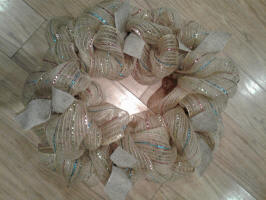 Then add your eggs. This was easy! Just a little dab of hot glue to the back of the egg and I glued it right onto the deco mesh. Again, add as many eggs as you would like until it looks perfect to you.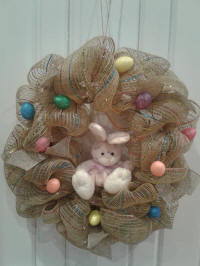 To finish it off, I added a little stuffed bunny to the inside. I just wrapped some twine around him and tied him right onto the wreath frame so that he sits up straight right in the middle.

Then hang up your wreath however you prefer!


do it yourself
Want more DIY's?