Driftwood Christmas tree wreath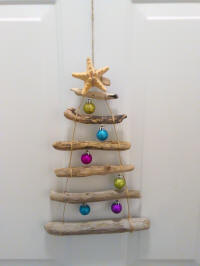 * This post may contain affiliate links.



I have to start out by apologizing. I do not have any "during" pictures of this project. I was waaaay too excited and having so much fun whipping this together that I completely forgot to grab the camera. That happens a lot to me. So again, I'm sorry. Fortunately, this is a pretty easy project and you should be able to figure it out quickly.

What you need:

driftwood pieces

some twine
fishing line
ornaments
starfish piece


Start by laying out your driftwood into the shape of a tree. Once you have it all set, get out your twin. I measured out a piece about 2 times longer than what I wanted the tree to be so I had enough twine to work with. I also used my excess length to hang up my wreath when I was all done with it.

We will put this together starting at the bottom of the tree. Tie a knot around one side of the piece of driftwood that will be at the bottom. You will then work your way up to the top of one side of your tree. Instead of tying a knot, I just tied it like you would the first half of a knot - you know, when you wrap one lace around the other and pull it tight. I did that around each piece until I got to the top. On the top piece, I tied it in a knot.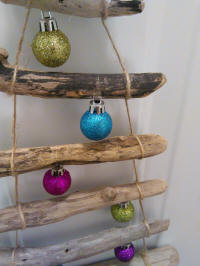 I left a 1 1/2" space between each piece of driftwood so I had enough room to hang my ornaments. Your spacing will depending completely on the ornaments you have chosen to use.

After you finish one side, do the other side the exact same way.

Once you have your tree completely tied together you can attach your ornaments and starfish with the fishing line wherever you would like them to go. Tie them on tight and then rotate the fishing line so that the knot is in the back of the wreath.

If you have excess twine at the top of your tree, you can tie the pieces together and hang it up with that or hang it however you choose.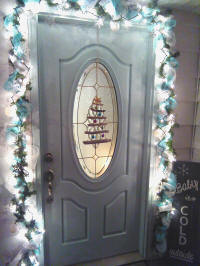 Want to know my wreath hanging hack?! I attach an upside down command hook to the inside and top of my door and I hang up all my wreaths this way. The twine/ribbon is attached to the wreath and goes over the door and hooks onto the command hook. Works perfectly for every wreath!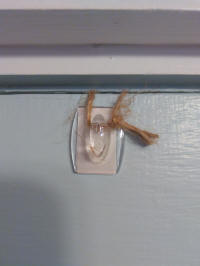 Enjoy your coastal christmas tree!