Diy apothecary jar for winter and/or Christmas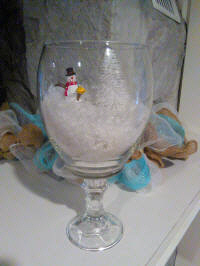 * This post may contain affiliate links

These are so cute! These easy diy apothecary jars can be used for so many things. Use them as candy dishes or change jars, fill them with pinecones in fall, ornaments for Christmas or easter eggs in spring. This year I decided to create a little glowing, winter theme in mine.

What you need:

a bowl you like (got mine at the dollar store)
a candlestick (got mine at the dollar store)
fake snow
figurine for inside
20 strand battery operated lights

E6000 glue

Apply glue to the top of your candlestick and then position your bowl centered on top of that and let it dry. It will take a few hours to dry completely, but after half hour or so, if you are careful, you should be able to finish decorating. I'm usually way too impatient to wait *that* long. DO NOT pick it up by the top of the bowl for 24 hours so that it dries solid. If you need to pick it up, pick it up by the candlestick and the bowl so hold it in place.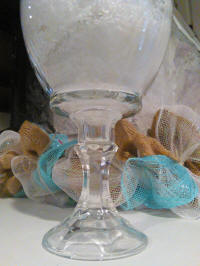 When it's dry, place your lights inside the bowl and leave the battery pack out. Pour some snow into the bowl, enough to cover your lights. Then add the figurines that you chose.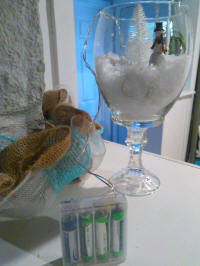 Light 'em up! With the snow covering the lights, it gives such a nice glow. Trust me, you'll find a reason to keep this out all year long and switch it out for every season.