Contact paper window treatment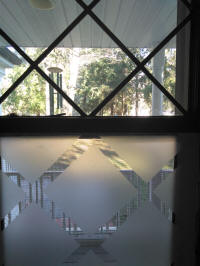 * This post may contain affiliate links.



Everyone wants curtains, blinds or shades for a different reason. I don't care for blinds, mostly because I hate cleaning them. I wanted curtains on the windows for those times when I want complete privacy, but I knew I didn't always want them closed. How our house is laid out and with the amount of trees in our yard, we don't get much natural light into our living room. My problem was how to get privacy with keeping the curtains open.

Contact paper to the rescue!

I had seen this on pinterest, but could not figure out how it actually worked. So I ran to the dollar store and grabbed a little roll of contact paper to experiment with.

WOW! This was exactly what I needed.

You can use this is many ways. You can cover an entire window with contact paper. You can cut out designs, words, shapes, etc. Because my windows had the leaded glass square shapes in the top half, I decided to do the similar pattern in the bottom.

What you need:

contact paper

posterboard or a thick paper
ruler, pencil and scissors

Decide on your design. I traced a square from the top window to get my square shape similar for the bottom. I then traced that shape onto the posterboard. I traced out about 30 squares to get me started.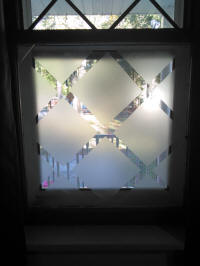 Then cut them out and start sticking them to the window. I started my layout in the middle of the window and then worked my way to the edges. This way I knew my design would look similar to the top and would look even through the window pane. At the edges you will likely need to trim down some of your shapes to make them fit.

Enjoy your new view! Notice how you can't see out and no one can see it, but you can still enjoy all the beautiful natural light.