DIY concrete stuffed animals




* This post may contain affiliate links

Oh my gosh y'all.....these are adorable!! I think this is one of my favorite DIY crafts of all time! I mean really.....how cute would he look in your garden?! Too bad, he's mine! But you can make your own!

What you will need:

stuffed animals
a bag of quickrete

bucket for mixing (big enough to fit your stuffed animal)
some twine for hanging him

a place to hang your little guy to dry (I used my sawhorse)
Gloves!

cardboard for protecting the ground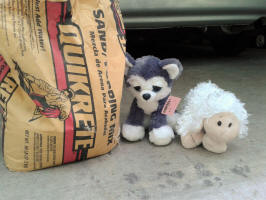 Mix up your quickrete
according to the directions on the package. I used about 3 cups of concrete mix for my 2 stuffed animals so how much to mix will depend on how much you need.

Once I had it mixed up good, I added some extra water. You want your mixture to be pretty runny so that it sticks to your guy pretty good. I would say mine was similar to a pancake batter but with the chunks.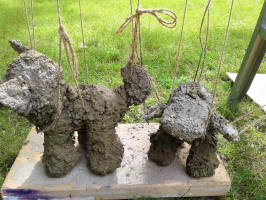 Then you will start covering your animal with the quickrete
. I couldn't get pictures of this step, I needed to work fast and my hands were full of concrete. You will need to really get in there and use your hands to get the concrete on him good. It will seem like it's not sticking to him, just keep rubbing it on all over real good. If you need to, add more water to make it runnier.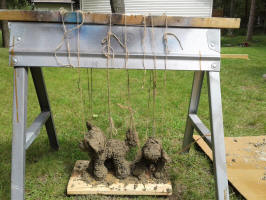 Once you have a good coat on him, it's time to let him dry. Because I had a dog and a lamb, I wanted them to dry in a standing position. So I cut some pieces of twine, wrapped them on his body and around my saw horse and started to position him into his standing position. I put twine around his body to hold him up and twine under his head to hold his head up more. I did the same thing with the lamb, but I also put some twine under each ear to make sure it didn't dry flat to his head.

Wait about 24-48 hours and then give your little guy another coating of the quickrete. If after another 48 hours he still doesn't feel sturdy enough for you, add another coat. I did 2 coats and he is not completely stiff, but he is strong enough to stand up perfectly and still has the textured look that I wanted.

Once he's completely dry you can remove all the pieces of twine and give him a permanent home somewhere in the garden. Or give him to another animal lover as a gift!