DIY coastal ornaments




* This post may contain affiliate links

I'm so excited to decorate our tree this year because we are doing something new. For the last 10+ years we've been decorating our tree with painted wooden peg dolls. Since my third child (a daughter) was born I started painting peg dolls for her to play with in her doll house. My boys eventually started asking me to paint peg dolls for them in their favorite super heroes. One year they suggested we put the dolls on the tree, so I decided to paint some more peg dolls. Each year I painted about 10 new dolls in their current favorite characters or some fun, favorites for my husband and I. You name it, we have everything from Elmo to Elvis. And it's so neat to look through all the peg dolls every year.

But this year, we made our first trip ever down to the Gulf of Mexico. We had so much fun and collected SO many sea shells that we thought it would be fun to turn them into ornaments and do a beach theme this year to change things up. We have plenty of shells, but I needed some other ornaments to break up all the shells and these are perfect.

What you'll need:

set of mini ball ornaments
sisal twine

hot glue gun and glue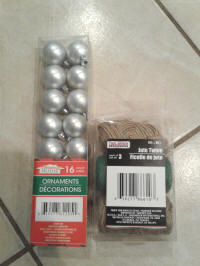 I got some cheap little ball ornaments at our local dollar store, but you can also find some here.
They were the perfect size and not breakable which is a necessity in my house!

Get out your sisal twine
, and starting at the top just under the little cap thingy, add some hot glue and attach your twine. I applied enough glue to wrap a few times around and then continued until I got to the bottom of my ornament, cutting off the twine and gluing it into place.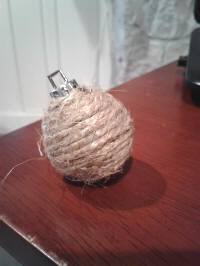 When you are done you can either use a traditional wire ornament hanger to hang up your ornaments, or you can use some of your sisal twine
to make a loop to hang it with. Just loop some twine through the hole at the top and tie it in a knot.