PVC Bird patterns and tutorial (PDF) $20 USD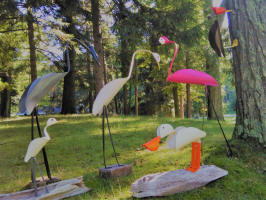 You are not buying an actual pvc bird.
You are buying the patterns to make the birds yourself.

PVC birds are a fun and unique craft that you can make and sell at local craft fairs, markets or on your own. They are so unique that they tend to sell themselves. I typically sell my birds anywhere from $15 for the smaller birds to $30 for the larger birds, but you can set your own prices.

Your PDF download will include:



*

Printable patterns to make 5 birds:

Blue Heron, Large Egret, Flamingo, Woodpecker and Small Egret.



*

49 pages of pictures, patterns and detailed instructions



*

How to prepare your patterns



*

Tracing your patterns



*

Cutting out your birds



*

How to heat and cooling your birds



*

Shaping your birds



*

Painting your birds



*

How to prepare and display your birds



*

A complete list of all the materials needed to make and paint your birds


You will need a printer to print off your patterns.

My bird patterns will make birds of the following sizes. Sizes will slightly vary depending on how you mold and shape your birds. The following sizes are approximate based on how I have them molded in the picture above:

Blue Heron = 37" tall
Flamingo = 35" tall
Large Egret = 30" tall
Woodpecker = 14" long
Small Egret = 14" tall

As soon as you purchase, you will instantly receive the PDF download.

You may print off the patterns and sell the birds you make with them as your own.
You may not resell my patterns or the PDF.



$20.00