Backyard redo


Ugh.....this backyard.

When we bought this house I thought to myself "no big deal, this will be a piece of cake to fix up".

I will never think that again. This house needed soooo much and these pictures don't really show much. We live very close to Lake Michigan so we mostly have sand instead of dirt as well as being surrounded by trees so we don't have much sunlight, making it even harder to get grass of any type to grow. That was just the start.

So after a year of fighting with it, we decided to work with it!

These are some befores: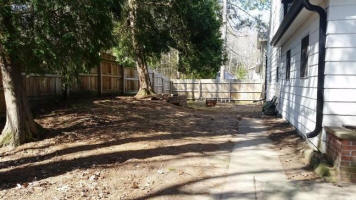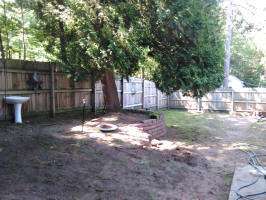 * This post may contain affiliate links

We had extremely overgrown trees, no grass, shrubs or flowers growing - only poison ivy. We started by killing the poison ivy and trimming up the two big trees in back. That was a lot of work, good thing we have some helpful kids! ;)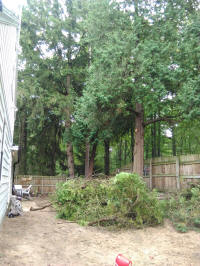 Then it was time for the downspouts. They dropped right into the sand constantly making holes in the ground every time it rained. So we buried them underground and out the back of the fence. What a project getting around all those roots, but it was worth it!




After that I had to tackle the mess around that big cedar tree. They had nicely put a ring around the tree, but it sort of just stopped on the side and it was a hill. Except with it being sand and us having kids and dogs, it never stayed in place. We had to create something to blend in with the old bricks, hold the sand in place and be super affordable - this house was starting to cost much more than we planned on!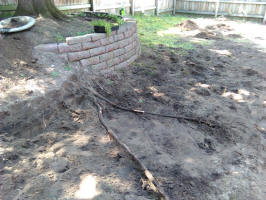 And then we had this area. It gets sun for about 1-2 hours in the morning and that's it. Plus it is below some huge pine needles making it even more difficult for grass to grow.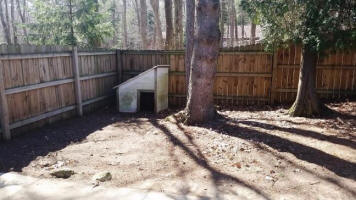 What we wanted in our new backyard:

A dedicated area for the dogs to potty
That weird hill area fixed
More sunlight
Flowers!! A cottage garden flower area
Some grass for kids to play



We did it and more! And for cheap! For a grand total of about $100 and a LOT of hard work we have a fantastic backyard that is perfect for us and our location.

Here's what we did:

Cut down a TON of branches
Put in the underground downspouts
Shoveled about 8 wheelbarrows full of sand from the hill area into flatter areas to level
Fixed the hill with rocks we found around the yard and added sedum between cracks
Laid down mulch for the dog potty area
Planted grass, grass and more grass
Moved hostas and ferns that were planted in other areas into the backyard
Bought and planted lilies, hydrangeas, primrose, salvia, lilacs, bleeding hearts, etc

After a year we had an area where the grass refused to come back so we decided to add mulch to that area and make it another type of flower bed. I had the kids create stepping stones and we just started gradually adding plants to that area.