2X4 wooden snowmen porch decor






* This post may contain affiliate links.



We've been doing so much remodeling at our house this past year so I seem to have an abundance of leftover wood laying around in the garage. And with the holidays coming, I knew I wanted to use it up by creating some cute gifts for some friends and family.

Aren't these little snowmen adorable? These are my kind of snowmen too - the cute, warm and dry ones ;)



What you will need:

a drill and drill bit - I have this one

3" screws
2x4's
2X6 for the base
acrylic paint
gray wood stain

gloves (got these at the dollar store - 2 for $1)
scarves or fabric (I got scarves at the dollar store and cut them in half)
plywood pieces for the "Let it snow!" signs (these are optional)
a nail to attach the sign if you are attaching one

Cut your 2x4 to the length you want them. Mine stand about 6-10" high.
Cut your 2x6 to the length you want it. If you only put one snowman on yours it won't need to be as wide.

I painted all my snowmen white and stained all my base pieces and waited about 24 hours to them to dry completely.




I drew on my faces in pencil first and then painted them in. You can do yours however you would like.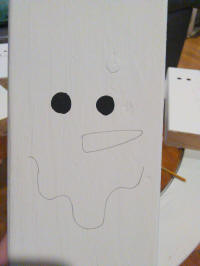 Once you have them all painted and they are completely dry, you are ready to attach them. I pre-drilled all my holes in the bottom of each snowmen and completely through the bases. This makes it MUCH easier for putting in the screws. Screw your snowmen onto your base from the underside of your base. Make sure you set the screws into the 2X6 a bit so that they will sit flat once attached.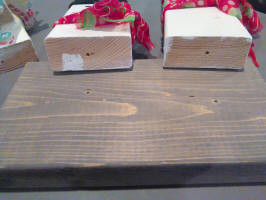 Once you have them all attached you can add your hat and scarf. Take a glove and stretch it over the top of your snowmen. You can use any type of twine, string, ribbon, etc to gather the fingers of the glove above the top of your snowman's head. Then tie on your scarf and secure it with a knot. If you need to trim up your scarf, just cut the edges off.



If you decided to add a sign, you can nail that into place.




Now give him a name and show him off to all your visitors!